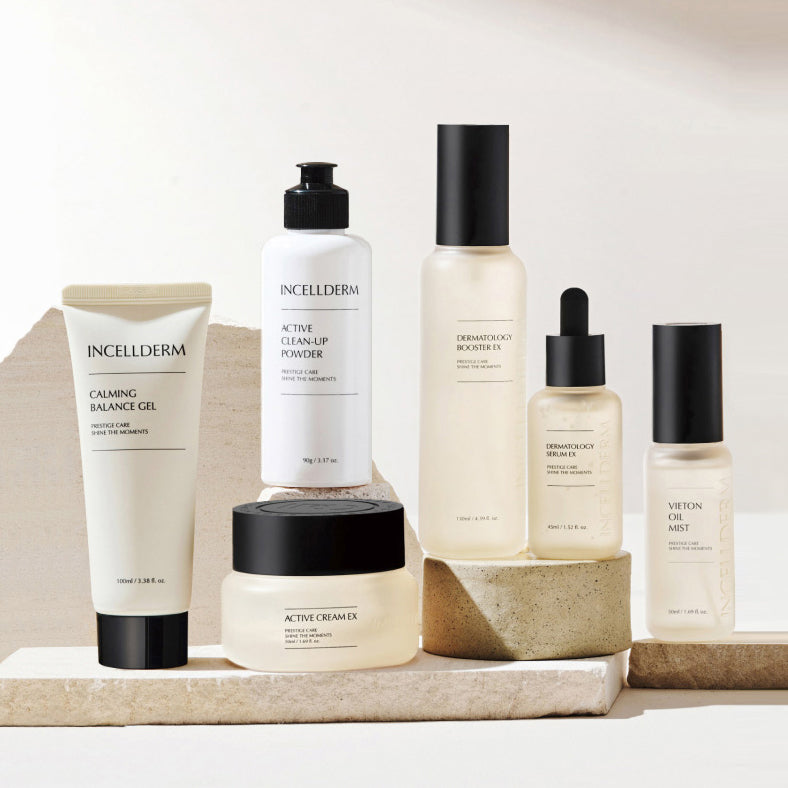 THE INCELLDERM SECRET
Transform your skin with our premium products targeting dryness, fine lines, wrinkles, dark spots, and hyperpigmentation. Our advanced formulas deeply hydrate, smooth lines, and fade dark spots, revealing radiant, youthful skin.
INCELLDERM has unlocked the secret to beautiful, bright skin that glows from the deepest layers out by combining the beauty secrets Korean women have been using for generations with the power of science and natural, patented ingredients.
The result? Skincare that can actuallly age you in reverse.
SHOP NOW
INCELLDERM'S JEJU LAVA ENERGY WATER
Approximately 2 million years ago, the largest island in South Korea, Jeju Island, emerged as a result of underwater volcanic activity. This remarkable place holds such significance that UNESCO has designated the Jeju Volcanic Island and Lava Tubes as a World Heritage Site. Over the course of 400,000 years, pristine Jeju Lava Energy Water has been preserved within the volcanic rock beds of Jeju Island, retaining the extraordinary energy of the ocean. This mineral-rich water serves as a vital component in INCELLDERM's products. Distinguished from ordinary seawater, it boasts a unique blend of minerals known for their skin-friendly properties. Our commitment to quality is unwavering as we responsibly harvest this exceptional water, ensuring it maintains its ideal temperature, sodium content, and pH levels. Our parent company RIMAN has been awarded the exclusive rights to use this water, making it the only company in the world to be using this extraordinary, mineral rich water.
EXCLUSIVE GIANT JEJU BYOUNGPOOL
At an optimal temperature of 80°C, Jeju Lava Energy Water meticulously extracts essential fluids from the Jeju Byoungpool (commonly known as Centella Asiatica) leaves. The Jeju Byoungpool leaf water, derived from these leaves, not only serves to calm the skin but also contributes to enhancing elasticity. Centella Asiatica, a medicinal herb with remarkable healing properties, has a rich history of traditional use. What sets INCELLDERM apart is our exclusive patent for cultivating and harvesting giant Byoungpool, a premium variation of Centella Asiatica. Unlike other brands that use regular dried Centella Asiatica, which may have lost much of its active properties, RIMAN opts for fresh, Giant Byoungpool. This choice results in higher antioxidant content, ultimately providing a more youthful and radiant appearance to your skin.
Who is Buy Incellderm?
Welcome to Buy Incellderm USA, your go-to destination for skincare solutions that deliver real results. Our parent company RIMAN has created cutting-edge products that are meticulously formulated using the latest scientific research to help you achieve the radiant, youthful skin you've always dreamed of. Whether your goal is to minimize fine lines and wrinkles, enhance skin texture and tone, or simply revitalize and nourish your skin, Buy Incellderm has the ideal solution waiting for you.
Learn More